Rumors of the Apple Watch priced the sports model at $349 which was accurate but after today's Apple Event, Tim Cook announced that the Watch model will cost consumers $549. Furthermore, additions to the Watch model can bring the total cost up to $1099.
Full Price Breakdown
Apple Watch Sport 
38 mm – $349
42 mm – $399
Apple Watch
38 mm – $549 to $1,049 (depending on watch band)
42 mm – $599 to $1,099 (depending on watch band)
Apple Watch Edition
38 mm, 42 mm – $10,000 to $17,000
Customers will be able to place pre-orders beginning April 10th, before the device officially goes on sale on April 24th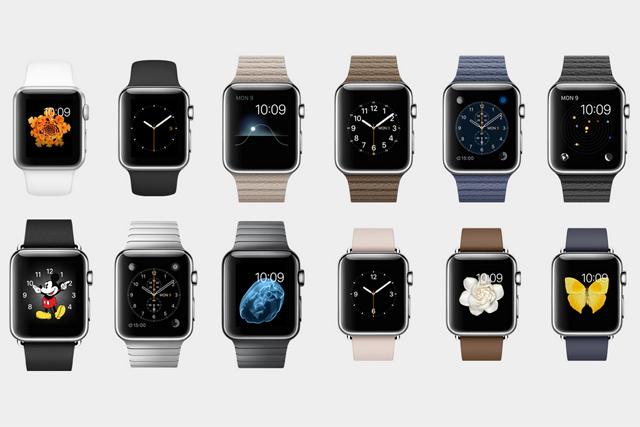 Has apple's pricing gone to far?
Huffington Post Reports:
Will anyone buy the thing?
• Yes: "What matters for adoption of a technology isn't what's possible for the user — what matters is what's easy." — Christopher Mims, The Wall Street Journal
• No: "I don't see myself texting, getting directions, or browsing cherished photo memories on my wrist. I have a smartphone for that." — Eugene Kim, PCMag
• Maybe: "Solid survey research suggested not only that the iPhone would fail, but also that it would fail particularly hard in the United States because our phones and cameras are good enough, already." — Derek Thompson, The Atlantic
• Who cares? "They say [the Apple Watch] will revolutionize the way we slowly and loudly repeat ourselves into electronic devices." — Jimmy Kimmel, "Jimmy Kimmel Live!"
Who's the device made for?
• Fashionistas: "Any tech worn that close to the body is going to have more of an emphasis on design specs and aesthetics, because it's just so intensely personal." — Dominic Basulto, The Washington Post
• Fitness buffs: "It reminds you to stand up at least once an hour, it suggests goals for how many calories you should burn each day, and it keeps track of your exercise." — Lisa Eadicicco, Business Insider
• Apple fanboys: "I suspect many are jumping to the conclusion that the only reason someone will pay thousands of dollars for [a gold] Apple Watch is to wear it forever as a status symbol. Instead, people will pay thousands of dollars in order to have the opportunity to buy an Apple product that can be worn." — Neil Cybart, Above Avalon
What else does Apple have going on?
• iPhone sales are superb: "Apple's iPhone sales in the last three months of 2014 were more than triple Google Inc.'s total revenue reported in its last quarter ($16.52 billion). That means the iPhone is worth more than Android, Google search, Windows and Office combined." — Thomas Halleck, International Business Times
• It's launching a streaming service: "You better believe that when Apple's streaming music service comes out later this year, it's going to come hard." — Josh Constine, TechCrunch
• It might be making a car: "The Cupertino, Calif., company has several hundred employees working secretly toward creating an Apple-branded electric vehicle, according to people familiar with the matter. The project, code-named "Titan," initially is working on the design of a vehicle that resembles a minivan, one of the people said." — Daisuke Wakabayashi and Mike Ramsey, The Wall Street Journal
So there you have it: 10 things you can bring up whenever someone mentions the Apple Watch. You're welcome.